The Week end November 22nd in Review.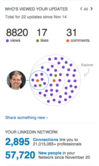 Top 5 Stories in Franchising & The Most Influential People this Week in Franchising.
-As Measured by  LinkedIn Readers
-Stories Produced & Distributed by Franchise Info.  
1st Place With 1861 Readers

Tim Lorang's 5 Technical Tips on Creating Websites for Smartphone Viewing
Sponsored Post with 1700 Readers
Franchise Info's How You can Get Found on the Internet And Get More Clients
2nd Place with 1561 Readers
Lynne Shelton's Which Franchise Show is the Best One To Attend?
3rd Place with 1327 Readers
Kathy Doering's Get Rid Customer Line-Up Problems Once and For All
4th Place with 1245 Readers  (2nd Week)
Michael Webster's How To Start a Effective Green Hotel Guest Towel Program
5th Place with 1162 Readers
Frances Leary's The (4) Steps for Franchise Success & Online Brand Management
When You would like to be more Influential on LinkedIn & Get More Sales, Customer or Clients, Look at What Franchise Info can Do for You to Get You People to Pay Attention to You.