Sometimes the road sign just pops up and you have to take the next off-ramp to the new direction in your life.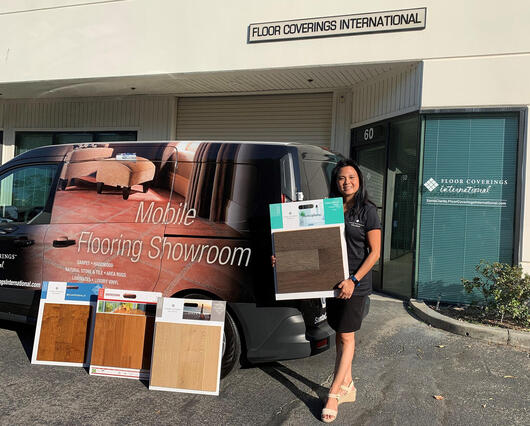 That's sort of what happened to Jocelyn Estrada. Having spent 25 years at Paramount Home Media, the home video distribution arm of Paramount Pictures, Estrada enjoyed success but yearned for more.
She had always wanted to own her own business but could never muster the courage to leave a steady paycheck while her kids were in school. That's just when Estrada saw the fast-approaching sign and got into the turn lane.
"As fate would have it, I separated from my company the same week my youngest started her freshman year in college.

I was an empty-nester and for the first time in 20 years I found myself focused on me.

And surprisingly, I felt no guilt in doing so," said Estrada, a 51-year-old Valencia resident.
"I took the opportunity to complete my bachelor's degree in Communication and considered opening the business I always wanted to."
Last summer Estrada became a franchise owner with Floor Coverings International, visiting customers' homes in a Mobile Flooring Showroom stocked with thousands of flooring samples from top manufacturers.
Floor Coverings International Santa Clarita serves customers throughout the Santa Clarita Valley and the northwest portion of the San Fernando Valley. Estrada's experience in her corporate career was in brand marketing, retail marketing and sales, skills she said are a perfect fit for Floor Coverings International.
"But I believe the most critical is an appreciation of customer service and its impact on my company's value proposition," Estrada said.
In Floor Coverings International, Estrada found a company that has tripled in size since 2005 by putting a laser focus on consumer buying habits and expressed desires, its impressive operating model, growth ability, marketing, advertising and merchandising.
Floor Coverings International further separates itself from the competition through its customer experience, made up of several simple and integrated steps that exceed customers' expectations.
Floor Coverings International also has a very strong commitment to community involvement, led by CEO Tom Wood.
"I was impressed by the leadership and completely agree with the company's core values," Estrada said. "I feel that Floor Coverings International is as invested in my success as I am."