Brand Awareness: Expand Your Reach in The LinkedIn Channel
When Can You Use Brand Awareness To Expand Your Reach in LinkedIn?
1. When you have a strong logo which attracts attention all by itself - without any story attached to it ...
2. When you have engaging & short videos which command attention...
3. When you have good human interest stories...
How Does it Work?
Most press releases just sit on newswire, languishing & waiting to be picked up.
Waiting for a reporter, editor to finally pay some attention to your story.
And when they do, the reporter or editor changes your story into something they want to write about!
Finally, some version of your story might get out to an interested reader.
But, what does that interested reader do next? Next to Nothing.
Now, imagine a different ending.
You take your story directly to the 400 million+ readers on LinkedIn & once they have finished reading the story they are whisked away to your landing page!
More readers, more engagement means more sales.
And you want more sales, don't you?
So, just have the following --
1. 5 high quality images you want to use to promote your franchise recruitment. (Simply use assets aleady on your franchise recruitment website.)
2. A landing page -- where you want your traffic to go to.
(3. Optionally, we will construct a landing page for you on Franchise-Info's website.)
4. (a) We will distribute your 5 enhanced images daily in our company update feed.
(b) We will distribute each PR story as regular placement, whether or not it has been picked up by a print or online newspaper.
The research shows that enhanced images and videos attract 2x- 3x the impressions on our company page, and 10x-100x the impressions you are likely to get on your company page.
Look at difference between a enhanced and regular placement in the LinkedIn news channel.
Enhanced Placement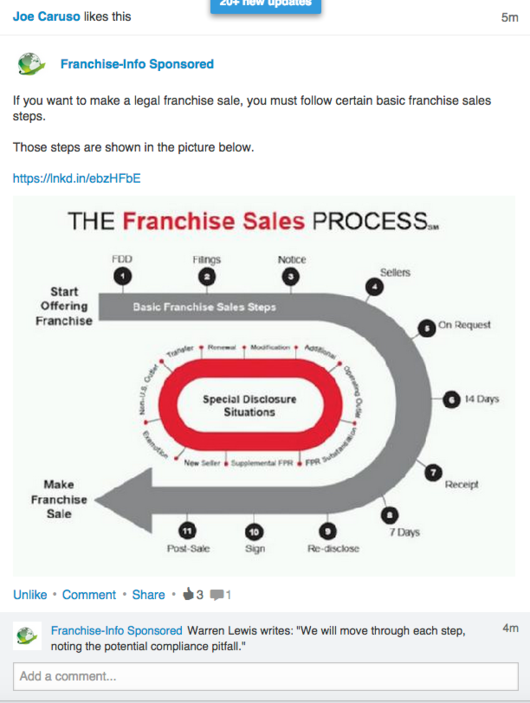 Regular Placement
The size of enhanced placement will attract more attention in the LinkedIn news feed, or channel, than the following regular placement. Don't you think?
What Does the Expand Your Reach Program Complement/Replace?
1. If you, or your PR company, is paying to distribute press releases to newspapers, use our program to extend your reach into LinkedIn & its 400 million+ professional readers.
2. If you are paying to attend conventions, use our program to extend your reach into LinkedIn & its 400 million+ professional readers.
3. If you have great video testimonials on your website, use our program to extend your reach into LinkedIn & its 400 million+ professional readers.
How Much Does it Cost?
You have to get your branding out there in the LinkedIn channel. You are already sharing and liking on LinkedIn.
Now, you can do it with a business purpose.
And, for a fraction of the original cost, you can use your best social assets on the LinkedIn channel.
The Starter Program - 4 Months
8 placements a month, for 4 months, for a total of 32 placements.
Each placement costs $37.50, for a total of $1,200.00, renewable every 4 months.