The Week of September 27th in Review.  
The Top 3 Stories in Franchising & The Most Influential People this Week in Franchising.
As Measured by Google & LinkedIn.  
Stories Produced by Franchise Info.  
Validated by Our More than 10,000+ LinkedIn Readers.
The 3 Most Popular Stories
1.  Nancy Lanard's What are the Hottest Franchisees You Can Buy, Now? (4th Week).
2.  Frances Leary's Is Your Franchisor Getting Google to Punish Your Local Franchisee Website?  (2nd Week).
3. Matthew Kreutzer's Do You Know The 6 Warnings Signals of a Nervous Franchisee Prospect?
Chart From Google Analytics: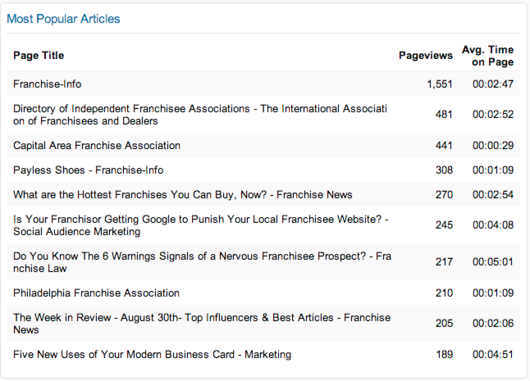 The 3 Most Thoughtful Articles 
1.  Kathy Doering's Quick & Easy Tip for Franchises to Show Their Customers that They Care.
2.  David Gould's Franchise Owners Want to Know: Where is My Rebate Check? (3rd Week)
3.  John's Gordon Does Private Equity Create or Destroy Value?

Chart From Google Analytics:
The Top Influencers as Selected by LinkedIn in the Franchise Groups
Top Influencers in Franchise Professionals
Top Influencers in National Restaurants
Top Influeners in IFA
Top Influencers in Metro Franchise Association
Top Influencers in Franchisors
Top Influencers in Franchise Owners
Top Influencers in Franchise Attorneys
Top Influencers in Franchise Suppliers