A recent case1 has highlighted the courts reluctance to intervene in "rewriting" RC's to make them enforceable. This means it is even more important to ensure that your RC's are reasonable.
RC's - the Law
The general rule is - a franchisor has a legitimate right to protect its interests in the territory where its franchisees operate - i.e. when a franchise comes to an end for a reasonable period of time the franchisor can prevent the former franchisee from competing with the incoming franchisee, and from poaching staff and/or employees etc.
What is reasonable?
In the Pirtek case2 the court held that a post termination restraint of 1 year that prevented the franchisee from, in the franchise territory, carrying on a similar or competing business was reasonable.
This case established a two-fold test (1) looking at whether the restriction is necessary to protect the franchisor's goodwill3 and (2) whether, the restraint is essential to prevent the risk that knowhow and assistance provided by a franchisor will after termination, be used by a franchisee to aid the franchisor's competitors4.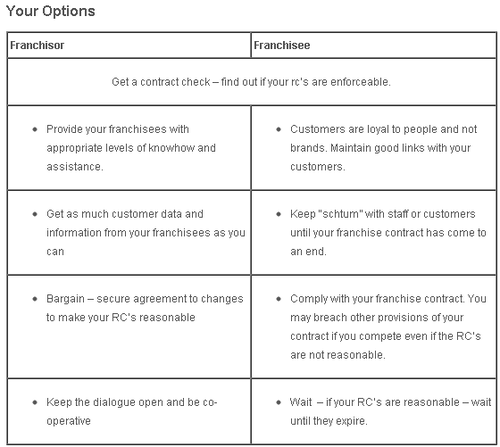 Fiona is a Senior Associate Solicitor at Freeth Cartwright LLP and Head of FC Franchise Build, Manage, Grow, Exit ™ Unit. You can contact Fiona on 0845 070 3812 or e-mail [email protected]
1Francotyp-Postalia Ltd v Whitehead and others [2011] EWHC 367
2Pirtek (UK) Ltd v Joinplace Ltd (t/a Pirtek Darlington) & Ors ([2010] EWHC 1641 (Ch))
3ChipsAway International Ltd v Errol Kerr [2009] EWCA Civ 320
4Case 161/84 - Pronuptia de Paris GmbH v Shillgallis [1986] 1 CMLR 414
Whilst every effort has been made to ensure the accuracy of this article, it does not provide complete coverage of the subjects referred to, and it is not a substitute for professional legal advice and should not be relied upon as such.