Amidst all the mobile marketing hype over the past few years, many franchisors and franchisees are still struggling with the basic challenge of whether or not to have mobile optimized local websites, and how to get started.
Are mobile websites really that important? What's the ROI?
What's the best way to develop a strategy and implement mobile websites? Do you need mobile apps too?
There are lots of questions, and it can be overwhelming, so let's look at how to determine the right approach for a localized mobile website strategy, and what's important to consider.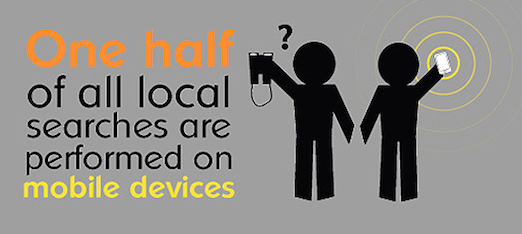 Image Credit: "One Half of All Local Searches"
Graphic courtesy of http://tag.microsoft.com/
First, Check Analytics to Gauge the Need
For most franchises, your target customers are seeking out information about your products and services at the local level while browsing on mobile devices, to some degree. If you have analytics running on your local websites, though, it's easy to gather data on this, rather than just speculating.
In Google Analytics, for example, you can quickly drill down to see how many visitors to your local websites are on mobile, and then see which specific devices are used the most among visitors.
Even if the mobile audience size isn't massive right now, chances are it will continue to grow. You want to make sure those visitors have a good experience, and that you're optimizing for conversions on mobile devices.
Assess the Current Mobile Experience
Assuming the percentage of mobile visitors to your local websites justifies you optimizing that experience, the next step is to pull up your local websites on a few different devices and take an honest look. Put yourself in the shoes of a prospective customer coming to the site for the first time - is it a good experience for them?
Chances are you have to zoom in, aimlessly thumb around the screen to find the information you need, and there's no clear and easy way for you to take the next step, whatever that may be for your particular business (i.e. Request a Free Quote, Schedule an Appointment, Get Directions, etc.).
Typically if you've done zero mobile optimization, when someone accesses one of the sites from a mobile device, they see the normal desktop version of the website, but shrunk down to fit a smaller screen.
Since most people on mobile are in a hurry and looking to do something very specific, showing them the entire website - as it was intended for viewing on a desktop computer - is usually information overload. Keeping your websites in this state is a great way to leave a poor first impression, and drive those would-be customers away in frustration.
Define Goals & Map the Ideal Workflow for Mobile Visitors
Before diving into the technical aspects of setting up proper mobile optimized local websites, it's important at this stage to define clear goals for what you'd like to achieve. Going back to your analytics data that you've hopefully accumulated over time, make some well informed decisions on what types of people you're looking to target, and what the ideal workflow and conversion points are that you should optimize for.
For example, let's say you have an auto maintenance and repair franchise. Let's assume that most prospective customers visiting a local website via mobile are drivers who've just had some sort of problem with their car (i.e. the "Check Oil" light just came on), and they're looking for nearby locations that they can go to for service.
The main goal for this use case would likely be to have the visitor convert by calling the location, scheduling an appointment, and/or quickly pulling up directions.
Presenting the basic contact information, a concise list of services, current promotions/specials, and a prominent "Click to Call" and/or "Schedule an Appointment" button will probably suffice for the initial page the visitor sees.
Remember, the screen size and an assumed short attention span are your biggest limiting factors, so you need to be selective about the content and navigation options you present, and always keep in mind the conversion(s) you're aiming for.
Implementing Mobile Optimized Local Websites
At a basic level, I always recommend that our franchise clients set up mobile landing pages for all locations, which can be done fairly easily from within our franchise CMS system. This way, no matter how a visitor finds a local website, and regardless of which specific URL link they click originally, they'll always be directed first to this mobile optimized landing page.
This is a great starting point, because having a well executed mobile landing page alone - with focused content and clear, targeted calls to action - should greatly improve conversion rates.
Depending on how much information you think is necessary to communicate to mobile visitors through the local websites, you may consider creating additional mobile optimized pages, or full mobile websites. It all depends on what your objectives are for mobile visitors, and how you can most effectively and concisely provide the information they want, while helping to increase conversion rates.
Regardless if you have a single mobile landing page per location, or full mobile websites, make sure that the design is done carefully to accommodate for small screen sizes. Ideally, mobile optimized pages should be "responsive", meaning the layouts and widths of these pages will automatically adapt to the screen sizes on a multitude of different devices.
I recommend consulting with whoever is responsible for management over your local websites, to determine the best technical approach for implementation, as it will vary depending on the content management system and other technologies used to run your current system.
What's your strategy when it comes to optimizing your franchise's local websites for mobile devices? Please share what's worked, what hasn't, and any questions or feedback you have in the comments below!
For the 5 Most Fascinating Stories in Franchising, a weekly report, click here & sign up.