Image via Wikipedia
The franchisor is obligated to give a prospective franchisee financial disclosure of the franchisor's business.
One of my concerns is that this financial disclosure is less than what a shareholder gets in a public company.
A shareholder can exist relatively quickly, but a franchisee is usually stuck for the term of the franchise contract - a situation that calls for more disclosure and not less.
Here is the type of example that should be of concern, from the franchisor 1-800 Radiator's 2009 filing.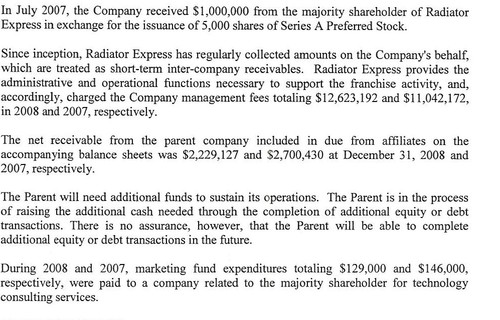 A number of questions spring to mind, especially since this is buried in the footnote of the financials.
1. Is Radiator Express really the franchisor, if it is doing all the collection and operational functions? If so, where are its financials - it being the "parent company"?
2. How much additional funds does the Parent need? Is it in danger of no longer being an going concern? What will happen to the franchisee operational support being provided?
3. It is now the middle of 2010 and there has been nothing filed on Caleasi which answers question 1 or 2. Is Radiator Express insolvent, preparing a receivership, or preparing for bankruptcy. Franchisees really need to know this.
4. Radiator Express, in this note, appears to be charging the franchisor a sum equal to most of the franchisor's revenue. But where is the explanation of what forms the basis of these charges - we don't have any information in the FDD about Radiator Express.
I could be way off base on this questions, and maybe there is a simple answer. Does anyone from 1-800 Radiator have an explanation?