LinkedIn is a fantastic tool to gain exposure for you and your brand, and has quickly become the powerhouse for social selling. The site has gained traction and its value has become evident.
From lead generation to employment opportunities, people have used the site to meet their personal business goals.
Now, as company pages emerged, similar articles were developed on how to make the most of your company page on LinkedIn.
Among the burning questions is engagement - how do we make the most of our LinkedIn page to engage with others, and develop relationships that are key to growing our business?
Below is a great infographic that depicts the key factors in creating a great LinkedIn status update for a company page: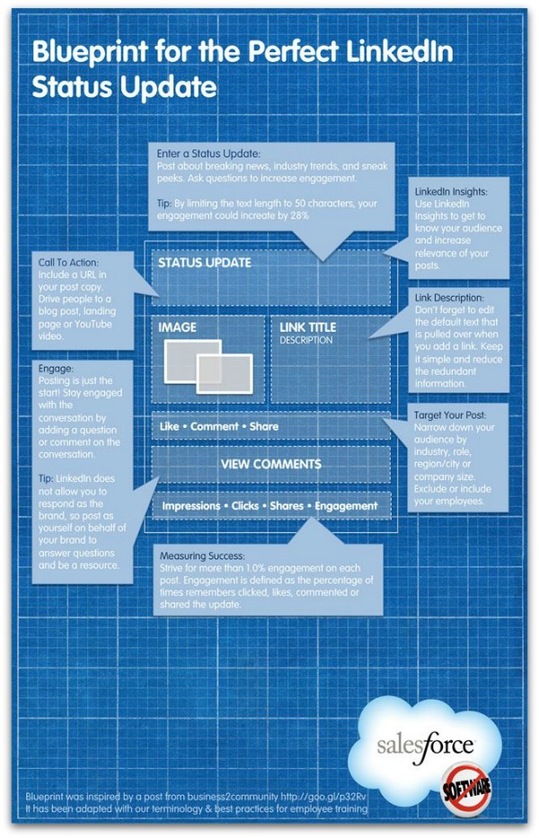 Some of the more obvious tips include creating a call to action (driving people to your website, blog, or other key site), using images with descriptions (images are appealing and draw attention to your update), and make sure the content is relevant.
Posting an article and asking for questions and opinions is another more obvious method of getting your status update to be seen by more people.
1. Target your updates: as you can see below, at the bottom of your status update box, you have the option to share the update with all followers or targeted people within your network.
Most of the time you'll want to share with the entire group, but there may be times when you want to send an update to only specific people within your network.
2. Encourage franchise owners to share the company page content: as status updates are created, encourage franchise owners to engage with the content, whether it's liking an update, sharing it with a group they belong to, or commenting.
Of course you don't want all of your franchise owners doing this with every single update, but selective engagement can keep your company page visible.
When engaging,franchise owners should include their own call to action, which includes encouragement for others to follow the company page.
3. Use analytics and page insights: find out which updates were best received, and which had the most engagement. Conversely, which updates were hardly looked at or given a second thought? This information can be helpful when creating content for your company page.
LinkedIn is ever changing and becoming increasingly more impactful in the way people connect for business.
Making sure your company page is the best it can be, providing relevant, useful content that will be shared by others, and looking for new and innovative ways to increase visibility will be the key to a successful company page.
What tips and tricks has your company used?
What's been most beneficial?
Anything you've tried been a complete flop?
If you would like to know more about Recruiting Franchise Prospects by accessing the LinkedIn database, then just sign up for our weekly newsletter.