How You can Get Found on the Internet And Get More Clients
Does your spouse tell you "You don't listen." or " You don't pay attention."?  I know my wife does.
"Pay attention" is something I continually say to my young son.  Our daughter, on the other hand, wants me to pay attention to her.
Pay Attention.  Pay for Attention
It got me thinking.  Why do some professionals write real interesting articles & upload  them to their website, if nobody is paying attention? Do they think that by uploading an article with an file transfer protocol program, FTP, they are now "publishers"?  
You and I wouldn't go to a trade show to give a talk, if we knew that there was no one in the audience.  Nobody would be paying attention.  So, we wouldn't bother.
Pay Attention. Pay for Attendees
So if you are writing to get your name out there, why do you bother if you aren't getting the attention you deserve?
Let's face it - the people on Facebook and Twitter don't actually want to read.  They aren't paying attention to articles you write, they are too busy doing something else.  The people who you could do business with and do read are on LinkedIn.
Pay Attention.  Paying for Attention?
If you think about it, attention is a type of currency.  You can pay someone with attention, or you can pay for attention.  And most of us want more attention, especially for the ideas we have written about.
Who is Paying You Attention?
Here is a typical picture of the traffic or readers to a professional's website -(Law Firm's name removed to protect the innocent).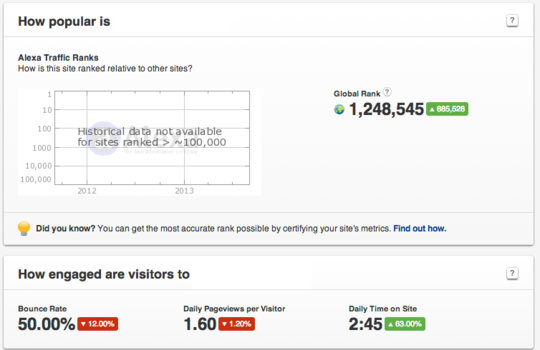 Now, this isn't so good - not even being the top 1 million of popular websites.   Nobody is paying attention.  Which is really too bad because the firm has some very good articles on franchising.  Thoughtful and topical.
So Why Not Pay for Attention, Instead?
If you have spent two or three hours researching, writing & revising your article, that article is worth $750 - $1,000 of your time.  Why not pay an extra $30.00 and get the attention you deserve?
When you want more clients, get Franchise-Info Key Partner Marketing Program before your competitors do.!
(Or are you doing so well you don't need more clients? I know I need more clients!)
Franchise-Info Key Partner Marketing Program
You write content & Franchise-Info Delivers View From LinkedIn Readers
Last week, Franchise-Info Delivered More than 30,147 readers to our Key Partners & You Could be Next.
How many articles do you wish to Franchise-Info To Deliver to LinkedIn Readers?
Professional:  24 articles per year, Google Analytics & Competitive Intelligence Reports
$90/month
Executive:       12 Articles per year, Google Analytics & Competitive Intelligence Reports
$75/month
Basic:                6 Articles per year.
$30/month
LinkedIn Profile