Reach People on LinkedIn Who You Could Do Business With.
It is easy for you to write.  Because you have a blog.
And, it is easy to share what you write on LinkedIn.  Just click the button called "share".
Here is what is tough.  
Distributing your content: articles, videos, and whitepapers to people qualified to do buisness with you.
Getting readers.  People who look forward to hearing from you by email & will then buy from you.
Franchise Info has those those readers -people whom you could do business with.   You can reach them for only $30.00 a month. Guaranteed, no contacts.
Building an audience of people who could do business with you could take you a lot of time.
Joe & I know because over the past 12 years, we have building & creating intelligent conversations about franchising.
We spent years creating our reach into the franchise world - getting our ideas in front of people who could do business with us.
The average income of a LinkedIn user is is "$83,000 US according to LinkedIn's marketing director."  People you could do business with are on LinkedIn.  And when they are on this social platform, they are there to network & do business.  Not to share photos.  Not to play games.  To network for business reasons.
You could reach some of these people.
Now, LinkedIn has a great new program for Companies wanting to expand their reach.  The LinkedIn Sponsored Update program.
Give it a listen, it is a short video.  Great idea, too.  For Companies.
I don't know about you, but I really liked that.  
Business Development is as simple as a click on the "Expand Reach" button.
This is only available for Companies,  doesn't seem fair does it?
Look what Companies can do.
Just touch the "Expand Reach" button on your iPhone and watch the sales tumble in!
It's simple and exciting.
But what about something similar for a person, just like you and me?
Well, there are two options - both of which will extend your reach in LinkedIn.
--getting your ideas in front of people who could do business with you.
One, you could get invited into the LinkedIn Influencer program, like Joe and me.
Here is Joe's new profile, after being recognized by LinkedIn.
You see what has changed: Joe now has 8,514 followers.
I am a relative slacker with only 4,546 followers.
Our reach is: 13,060 followers.
10% of the franchising world on LinkedIn is following Joe & me.
We have reach.  We reach people on LinkedIn who could do business with us.  And we do reach them.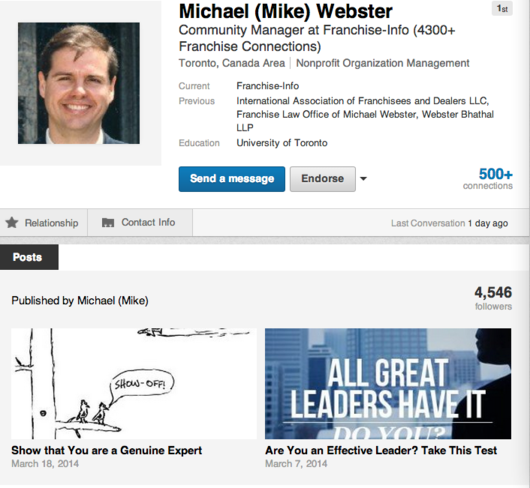 You could take the time, get invited, get followers, and get your own reach.
Or you could just leverage our reach, use our reach just when you really needed it.
Here is How to Expand Your Reach in LinkedIn
Here is how it works.
Joe and I share only 2 or 3 articles a day in our LinkedIn hub of franchise groups, each Sunday through to Thursday.
Your article is promoted 4 times - twice in the a.m. and twice in the p.m.
You article is one of 2 or 3 articles allowed into our Franchising groups - which have over 12,143 members.
Your article also appears 4 times a day in the LinkedIn Update feed.
And, Joe and I give a shout-out to other experts in the field to increase your reach.
Your can increase your reach in LinkedIn starting at the absurdly low price of $30/month.
What do you have to lose? - Just start now.
ps. - We can even help you with your own Franchisor Company page if you are recruiting franchise candidates on LinkedIn.  Bit more than $30/month, though.
We will automatically syndicate your articles on Franchise-Info.
Franchise-Info is the most viewed  franchising trade magazine on the internet.
And just as quick, your articles will get to people you could do business with on LinkedIn.
Once we have your blog set-up, Joe and I will schedule 3 calls with you.
The first call will help us know your marketing objectives on LinkedIn, and who you really are.

The second call will help us create your directory listing.  

Finally, the third call will help us establish your reach strategy.
Why do we take all this time - for the absurdly low price of $30/month?
Why aren't we charging you $750/hour for all our skills?
Well, Joe and I know some secrets.
First, if you talk with us & we can do business together, then we will do business for a long time.
Second, marketing on LinkedIn takes time.  Took us over 12 years. And there are no shortcuts.
Finally, we want you as a customer, and then as a friend. 
Ok, you know it's a great deal & solves your marketing problems on LinkedIn.
But, it is also a limited offer.
Remember how I explained what Joe & I did - 
Joe and I share only 2 or 3 articles a day in our LinkedIn hub of franchise groups, each Sunday through to Thursday.
So, we can only expand the reach of a limited number of authors.
We would love to expand the reach of thousands, or even hundreds of authors.
This would make us a ton of money & would make us very happy.
Sadly for us, but happily for some of you, we cannot share more than 2-3 articles a day.
And, the math is simple.
Twice a day, five times a week, 50 weeks in a year is 500 articles/year.
At the rate of $30/month for 6 articles, we get about 80 authors.
At the rate of $75/month for 12 articles, we get about 40 authors.
Looking over our numbers, we have decided on limiting our Author program to 50.
You Belong in The Top 50 Authors in Franchising.
Kinda has a nice ring to it.
(If you aren't ready yet, sign up and get our Publishing on LinkedIn Tips)
Basic:                6 Articles per year -$30/month 
Executive:       12 Articles per year -$75/month
Professional:  24 articles per year -$90/month