Image Media Partners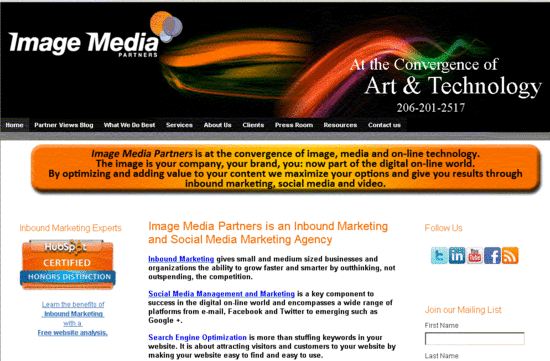 In this economic environment we understand that many small companies and startups do not have the resources to establish an online social media marketing plan even though it is the most cost efficient and potentially rewarding course of action they could take.
In fact we are so sure that social media and inbound marketing will help grow your business and make you profitable we are willing to offer special pricing for small businesses and startups.
We are willing to work with you, to invest some of our sweat equity to insure your success, with the knowledge that when you are successful we will benefit by providing our services at our regular market rate.
However we will only offer these rates to companies who are dedicated to success. This means that there will be no overnight success, instant jackpots or get rich strategies.
It means that we will work with you to develop a social media inbound marketing plan that will steadily grow your business at a sustainable rate. We will establish a working relationship over a set amount of time, usually six months, to ensure that the marketing plan has time to work.
You will be an important part of the plan and will contribute content and resources to ensure success. Each startup and business is unique and each social media marketing plan reflects that unique quality.
That is why Image Media Partners will need to do individual evaluation of your business, website and social media plan.
Contact us for a free small business/startup evaluation and consultation.