Customers come in all shapes, sizes, and communication methods. Social media has given customers a new way to easily communicate with businesses, and, just like other channels of customer service, it allows for some...um, awkward situations that are now very public.
Consider the Twitter conversation between what I'd consider an awkward customer and Cineworld Cinemas.
An apparently unhappy customer was asking for the company to justify their ticket prices, and also accused the company of deleting the customer's posts: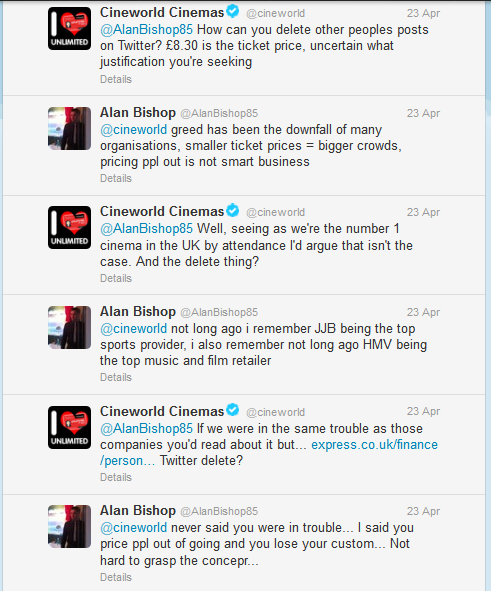 While this conversation went on for some time, and you can read the entire conversation here, it is a good illustration of how to handle customer complaints in social media, especially when they are customers who may be looking for a public argument.
 "The customer is always right" is a mantra many follow, but there are times, especially in social media, where this falls a bit short. In this case, the company had three choices: handle the communication publicly and defend their operations, handle it privately within Twitter's direct message feature, or ignore it completely.
They chose the first option, and rightfully so, as option 2 probably would not have worked; the customer, seemingly wanting a public conversation, would have take it back to public status and quite possibly accuse the company of having something to hide. Ignoring it would have made things a thousand times worse.
When you're faced with this situation, handling it as quickly as possible in a calm, factual manner is best.
Some companies will try to appease (and quiet) this type of customer as quickly as possible to avoid further issue. However, the way this company handled it was good - I do think the conversation could have ended a bit sooner, and some of the company replies could have been read with a slightly argumentative or condescending tone, but otherwise, they stated the facts and explained their business model as best they could, despite the fact that this customer continued to stab at the company.
I think many businesses would rather try to avoid the situation or quickly appease a disgruntled customer like this one so as to not fill their feeds with what seems to be negative discussion. However, there are a few things to keep in mind:
1. Your customers are already (generally) happy with you. The fact that you're defending your business and not "taking the heat" from someone who appears to want an argument makes your business "human" and possibly more likeable. You're not going to lose customers over conversations like this, and, by reading this, customers will know that you're paying attention to what people are saying and engaging with them, no matter positive or negative. 
2.  People are smart cookies, and will read this conversation and quickly realize that this is someone who is looking for an argument and is trying to get a rise out of the company. They will take this conversation with a grain of salt really.
Companies need to speak up more in social media; after all, that's what it's here for: conversation and engagement. Knowing how to handle these types of "awkward" customers will go a long way in your social media strategy and have your company coming out stronger in the eyes of your customers.