Mary Clapp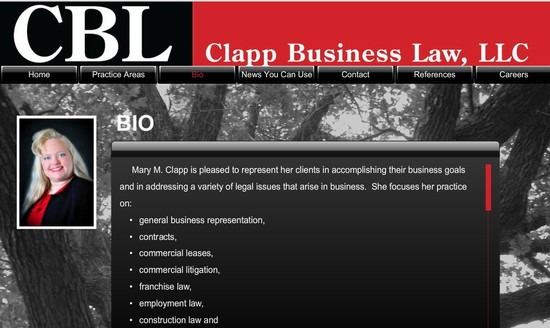 Ms. Clapp is admitted to practice in the states of Florida and Missouri and before the Middle District of Florida, the Western District of Missouri, and the Eleventh Circuit Court of Appeals.  
Before founding
Clapp Business Law, LLC
, Ms. Clapp served as General Counsel for Incredible Pizza Franchise Group, LLC, an international franchisor of 50's themed family entertainment centers.  As General Counsel, she was able to expertly assist her client in navigating the  numerous complex laws, regulations and guidelines which govern its business by revising Incredible Pizza's internal policies and systems and by providing periodic training sessions and on-demand individual advice to executives, managers and staff.  She also had primary responsibility for negotiating and preparing strategic contracts including franchise agreements and area development agreements in the United States and the United Mexican States, vendor and supplier agreements, long term commercial leases, and non-disclosure and non-competition agreements.   In  addition, she handled all of  Incredible Pizza's litigation, including franchise litigation and trademark litigation.   
     Prior to joining Incredible Pizza, Ms. Clapp practiced law  in Tampa, Florida.  Her Florida practice focused on commercial law, including both transactional and litigation matters.  For example, she handled litigation between a condominium developer and a buyer involving novel questions of contract interpretation under the Interstate Land Sales Act and which resulted in the Eleventh Circuit Court of Appeals' precedent setting opinion in favor of her client, Stein v. Paradigm Mirasol, LLC, 586 F.3d 849 (11th Cir. 2009).  In a matter involving complex analysis of an international distributorship agreement, she successfully defended an international distributor against a United States manufacturer, achieving a seven figure judgment on her client''s counterclaim.  
     Ms. Clapp is committed to providing effective legal representation and to diligent work on behalf of her clients.  Her diligence is demonstrated by her accomplishments from the moment she entered the legal profession.  She graduated first in her class, summa cum laude, with a certificate of concentration in advocacy from Stetson University College of Law, a school frequently ranked number one in trial advocacy by U.S. News and World Report.  While in law school, she was selected for two prestigious internships, one with a Federal District Court Judge, the Honorable Susan C. Bucklew, and the other with a Florida Appellate Court Judge, the Honorable Daryl C. Casanueva, was an award winning advocate in three national moot court competitions, and served as  Chief Justice of the Stetson Moot Court Board.
Ms. Clapp enjoys public speaking and has given the following lectures, training and seminars:
Franchise Compliance Training, Incredible Pizza Franchise Group
Labor and Employment Manager Compliance Training, Incredible Pizza Franchise Group
Construction Law,
2005-2009 Stetson University College of Law,  Guest Lecturer
Construction Lien Law, 2007-2008 Lorman Education Services
Resolving Problems and Disputes on Construction Projects, 2007 National Business Institute
Construction Insurance, Bonding & Liens in Florida, 2007 Lorman Education Services
The Fundamentals of Construction Contracts in Florida, 2006-2008 Lorman Education Services  
Construction Delay Claims in Florida, 2006 Lorman Education Services
Everything a Construction Player Should Know about Insurance, 2008 Lorman Education Services
 In her free time, Ms. Clapp enjoys working on her farm and fruit orchard and spending time with her husband.